There, after all, was a sense of inevitability. About Arsenal's silk-toed title trekkers gasping with the summit twinkling in their eye-line; about Manchester City's slick and sleek dream-crashers pouncing from the unseen bend and nudging the title challengers down the gorge of timeless pain.
A most dramatic season—the English league, unlike most other European counterparts, has not become a monopoly. The most engrossing theme in the run-in to the last turn is that both title contenders, City and Arsenal, have a firm control over their destinies. The equation is simple: both teams need to win their remaining games. Arsenal have a five-point cushion, but City have a two-game manoeuvre room.
All of it makes their clash on Wednesday the most significant game of the season, the entire season of sweat and tears crunched into one game. There would be life after Etihad for both teams, the grasp on the ears of the trophy could yet change hands, the reflection on the crown could yet be of a different.
The odds, after three successive draws, two from the jaws of victory and one from defeat, besides City's ravaging form, would be stacked against Arsenal. But a title race is replete with twists and turns against, and could make an utter mockery of all predictions and presumptions.
Arsenal could regather steam, put aside the regrets of the last three games, and run emphatically to the title. There would be no bigger statement of superiority than beating City at Etihad and marching towards the title. City, as invulnerable as they had seemed in their last 11 games, could falter, their attention scattered by the quest for European glory, for which they would channel all their energy. Or they could hit an even higher gear of explosiveness. For the faithful, the season can take a toll on the heart health.
Read | Haaland-Guardiola, an irresistible partnership
It is also that time when the metaphor-deja vu-nostalgia industry begins to go overboard. Of fight-backs and fall guys, of slips and slip-ups, of crucifixion and rebirth.
Some parallels are already being forced upon us. Bukayo Saka, Arsenal's talisman this season, could already see the ghosts of Gerrard in his shadow after his fluffed penalty against West Ham. There are other cruel oh-those-moments, there are moments of infamy queuing up to be stamped as scars in the mind of fans. Granit Xhaka's needless riling up of Trent Alexander Arnold that woke up the slumberous Liverpool crowd, turning a graveyard to an inferno. Some have already cast this as the moment Arsenal's title challenge began to fall apart; Kieran Tierney's needless showboating when challenged by Declan Rice—a sign of unwanted arrogance; or Aaron Ramsdale's blooper that resulted in Southampton opener.
Advertisement
In the next eight games, City too could endure such moments. Perhaps, Erling Haaland spooning a penalty into the Etihad tiers, or Ederson making a howler, or Pep Guardiola's tactical faux pas. Or conceding a last-second goal in the last second of this season. The possibilities are as engrossing as they are infinite. Maybe, it could all end on Wednesday, or maybe it could go down to the last game. Mikel Arteta's men would be either champions or wrecks. Guardiola's men could be immortalized for their persistence or for their ineptness to close out the race. Whatever be the outcome, whoever be the champions, this would be the most memorable title tussle in recent times.
Even last season, both City and Liverpool entered the last game as potential champions, but the title race was close-fought for almost the entire season and gathered a frantic pace towards the end.
But it was not the case until the Liverpool game. Arsenal were regal, crushing opponents, making improbable comebacks, pinching points from nowhere, exuding a sense of calm swagger and strut, displaying a winning mentality reminiscent of peak Wenger era.
Advertisement
Yet, they contrived to lose their once firm grip over the title. It is harsh to blame Arsenal for the situation they find themselves in, in them letting City claw back into the title race. Their brand of football has been riveting to watch; the qualities of mind and feet to sustain a healthy lead for most part of the season was impressive; their scouting, recruiting and grooming models were a lesson (it still will be, even if they emerge second). Yet, they alone could be faulted for the circumstance they find themselves in.
Top Sports News Now
'The name of the game is intimidation': Hungry Gukesh takes on resurgent Magnus Carlsen
Vidit wins 4-2 against Nepomniachtchi to complete Indian quartet in FIDE WC quarters
Neymar joins exodus from Europe for 'greener' pastures in Saudi Arabia
Click here for more
It was theirs to lose at one point. They were rolling along, there was a sweeping power to their football that took everyone along with it, before City cranked up the pressure, and Arsenal began to wilt, not mindlessly, but in fits and starts. In that vein, this season is reminiscent of Newcastle United's epic-scale meltdown in 1995-96, when they squandered a 12-point advantage to let Manchester United triumph on the penultimate week. Like Newcastle, Arsenal's biggest enemy was not City, but their own fears, and the seeds of panic City's golden run sowed Great teams could beat another team off the field too.
Also Read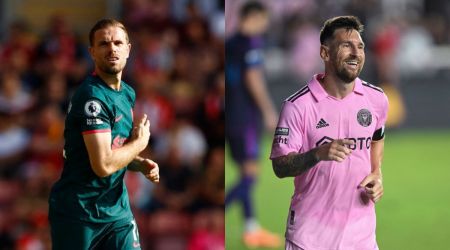 'Can't understand why coming here would damage Henderson's legacy and Mes...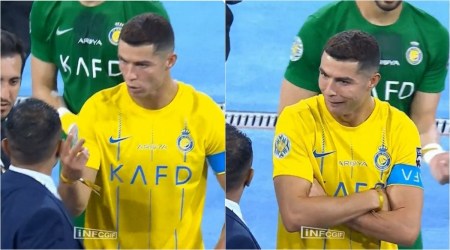 Watch: Cristiano Ronaldo looks bemused after being snubbed for player of ...
Jose Mourinho substitutes Roma player, forces his own team to play with 1...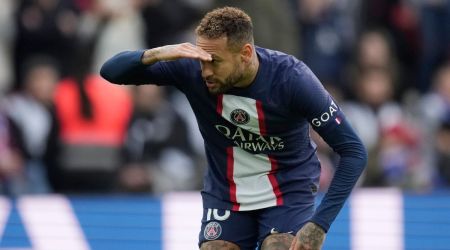 Neymar set for Saudi move after Al Hilal agree near-USD100M transfer fee ...
While United were putting together a run that would see them win 13 of the last 15 games, Newcastle had an eight-game spell where they picked up a mere seven points from 24. Arsenal imploding in a similar way is unforeseeable, there is steel beneath the silk, but City stitching a similar run is foreseeable, unless the fortunes of the league take another wicked turn, or another defining moment.