Real Madrid eased to a 2-0 win at Cadiz in the Spanish league on Saturday despite resting several first-choice players ahead of its trip to London to face Chelsea in the second leg of the Champions League quarterfinals.
Karim Benzema had already hit the woodwork twice as Cadiz clung to the goalkeeping skills of backup David Gil to stay alive before Nacho Fernández and Marco Asensio broke though with goals in the 72nd and 76th minutes.
The win left Madrid 10 points behind Spanish league leader Barcelona, which visits Getafe on Sunday.
Madrid visits Stamford Bridge on Tuesday holding a 2-0 lead after its convincing win over Frank Lampard's team in Spain.
"David Gil played a great game and Nacho had to put it in for us," Madrid goalkeeper Thibaut Courtois said. "We could have scored more goals, but hopefully we were saving them up for Tuesday."
Coach Carlo Ancelotti once again rotated his squad after his team's 2-1 loss to Barcelona last month appeared to finish off its Spanish league title defense.
Vinícius Júnior and Toni Kroos both stayed in Madrid to recover from what Ancelotti described as minor muscle issues that are not expected to keep them from playing at Chelsea. Luka Modric only played the final 10 minutes. Benzema, who has missed several games this season with muscle injuries, was in the starting 11 at Nuevo Mirandilla Stadium.
Advertisement
In the last round of games, a similar mix of backup players and set starters for Madrid were beaten by Villarreal 3-2 at the Santiago Bernabeu. Ancelotti had admitted his side lacked "motivation" against Villarreal with the league title seemingly out of reach at this stage.
Real Madrid's Marco Asensio, right, celebrates after scoring his side's second goal during the Spanish La Liga soccer match between Cadiz CF and Real Madrid at the Nuevo Mirandilla stadium in Cadiz, Spain, Saturday, April 15, 2023. (AP Photo/Jose Breton)
This time, Madrid won through at Cadiz which, unlike the attack-minded Villarreal, tried in vain to annul the visitors' superior talent by packing its area.
Cadiz almost caught Madrid off guard in the early stages when right back Alfonso Espino got into the area and sliced a shot off the far post in the 11th.
Otherwise, Madrid dominated.
Advertisement
Benzema wasted a chance from just outside the six-yard box when he fired onto the crossbar in the 35th.
Gil, who was in for suspended 'keeper Jeremías Ledesma, made the most of his playing time by making several saves, including stopping Rodyrgo in a one-on-one situation just after halftime.
But as Madrid poured forward, Cadiz also needed Madrid players to simply miss.
Federico Valverde shot wide before Benzema smacked a second shot off the post in the 64th. Moments later, Gil got just enough of his boot on a shot by Rodrygo.
It finally fell to Fernández, a defender with little scoring pedigree, to surprise Gil when he fired a right-footed shot from well outside the area into the lower left corner. Asensio put a second goal just inside the left post from inside the box.
Advertisement
"Nobody could believe (that Madrid had yet to score), but we scored in the most difficult situation, with a shot from long range," Ancelotti said. "But my team showed energy and motivation in a game that could have been a trap coming just three days before the trip to Chelsea."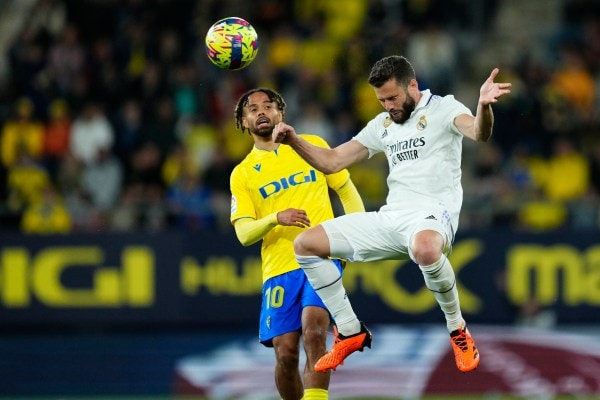 Real Madrid's Nacho, right, and Cadiz's Theo Bongonda challenge for the ball during the Spanish La Liga soccer match between Cadiz CF and Real Madrid at the Nuevo Mirandilla stadium in Cadiz, Spain, Saturday, April 15, 2023. (AP Photo/Jose Breton)
With a two-goal advantage, Ancelotti even found the moment to send Eden Hazard on as a late substitute in the former Chelsea star's ninth appearance of the season.
Cadiz was left in 15th place.
Advertisement
"Personally, I leave with a good feeling after playing like I did, but on the other hand I'm angry that I let those two shots get past me," Gil said. "In four minutes all the hard work we had put in was ruined."
CHAMPIONS LEAGUE FIGHT
Real Betis moved closer to climbing into the top four spots that earn Champions League berths after it beat Espanyol 3-1 — and two direct rivals for fourth place both lost.
Advertisement
Betis dealt relegation-threatened Espanyol a sixth straight loss, including a second defeat under new coach Luis García.
The victory lifted Manuel Pellegrini's side into fifth place, and three points behind fourth-place Real Sociedad after it lost a Basque Country derby at Athletic Bilbao 2-0.
Bilbao was led by forward Iñaki Williams, who scored once in each half.
Also Read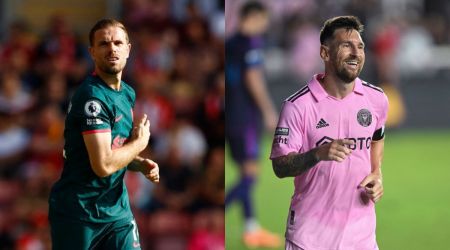 'Can't understand why coming here would damage Henderson's legacy and Mes...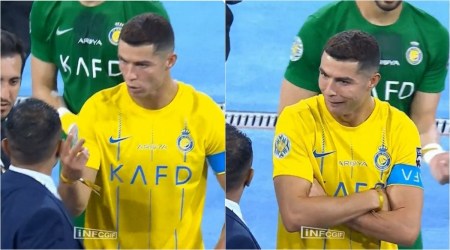 Watch: Cristiano Ronaldo looks bemused after being snubbed for player of ...
Jose Mourinho substitutes Roma player, forces his own team to play with 1...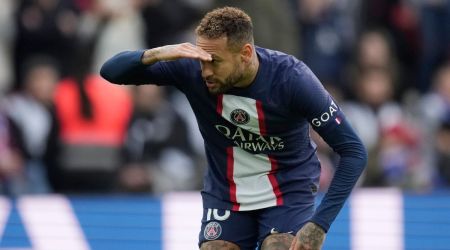 Neymar set for Saudi move after Al Hilal agree near-USD100M transfer fee ...
Bilbao is four points adrift of sixth-place Villarreal, which was beaten 2-1 at home by Valladolid.