The midfielder whose goal in Istanbul secured Manchester City's first Champions League title on Saturday played another key role as Spain beat European champion Italy 2-1 on Thursday to advance to the Nations League final against Luka Modric's Croatia on Sunday.
"I'm thrilled with my year," Rodri said. "It's been a huge effort — with the World Cup and winning the historic treble with Manchester City and now we're in the (Nations League) final."
With extra time looming, Rodri's deflected shot fell to substitute Joselu in the 88th minute and the Espanyol striker — who was only just onside — turned in the winner from close range at FC Twente Stadium.
"I didn't actually celebrate too much because I wasn't sure it would count," Rodri said. "Joselu got into the space. He scored a really important goal for us."
It is a second chance for Spain, which reached the Nations League final in 2021 — beating Italy in the semifinals before losing to France.
It also was a turnaround in fortunes for Spain coach Luis de la Fuente, who replaced Luis Enrique after the World Cup in Qatar. He entered the match under pressure after his first two matches in charge were a hard-fought victory against a Norway team missing Erling Haaland and a 2-0 loss to Scotland.
"We just needed time," he said. "I've always said that this is a process and it takes time to establish ideas. It takes time in training. We were unlucky that day."
Advertisement
Spain had opened the scoring in the third minute when veteran Italy captain Leonardo Bonucci was tackled by Gavi and dispossessed by Yeremy Pino, who then calmly fired past Gianluigi Donnarumma for his second international goal.
But Ciro Immobile hit back quickly for Italy, converting an 11th-minute penalty after Nicolo Zaniolo hit a powerful shot that hit the arm of France-born Real Sociedad defender Robin Le Normand, who was making his debut for La Roja.
Spain takes on Croatia in Rotterdam on Sunday in the final while Italy will face hosts the Netherlands in the third-fourth match also in Enschede.
Advertisement
Davide Frattesi thought he had put Italy ahead in the 22nd after running onto a long pass by Jorginho and slotting a low shot through the legs of Unai Simón, but the effort was ruled offside.
The crowd at FC Twente stadium in the eastern Dutch city of Enschede was far quieter than the raucous Croatia supporters who roared their side to a 4-2 victory over hosts the Netherlands. The exception was Spain fans often calling on Rodri to shoot. They got their wish in the 88th minute when his effort set up the winner.
While 37-year-old Luka Modric starred in Croatia's victory, Bonucci — one year younger — could not make amends for his early error and was substituted at halftime.
In his absence of Italy's defensive talisman, Spain started the second term strongly and twice came close to taking the lead.
"We dropped off too much in the second half. Absolutely," Italy coach Roberto Mancini said.
Advertisement
Donnarumma denied Mikel Merino with a good save in the 49th minute. Morata then gathered the rebound with his back to the goal, but shot just wide.
Three minutes later, Rodri connected with an acrobatic effort that sailed just over the bar after Donnarumma weakly punched away a Jordi Alba free kick.
Advertisement
Italy came close to taking the lead in the 65th minute, but Unai Simon's reflex save denied Davide Frattesi a goal.
Mancini lamented the lack of world class forwards at his disposal.
Advertisement
"For a while now, Italy have been lacking some forwards, I don't know why," he said.
Also Read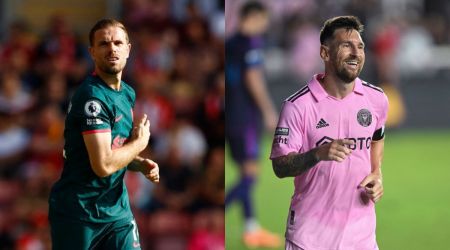 'Can't understand why coming here would damage Henderson's legacy and Mes...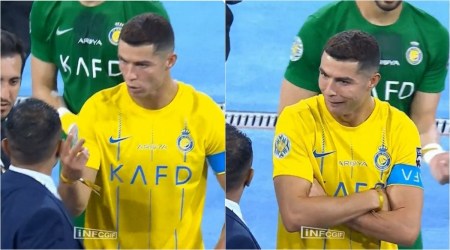 Watch: Cristiano Ronaldo looks bemused after being snubbed for player of ...
Jose Mourinho substitutes Roma player, forces his own team to play with 1...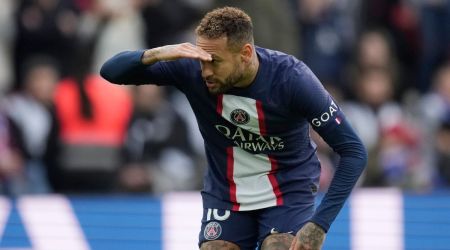 Neymar set for Saudi move after Al Hilal agree near-USD100M transfer fee ...
The match started with a moment's silence for Silvio Berlusconi, the former Italian premier and owner of AC Milan who died Monday.