As the final whistle of the UEFA Champions League final pierced through the night air at the Atatürk Olympic Stadium, Manchester City players wheeled away in celebration all around the pitch. They had won the treble, matching the feat achieved by their decorated neighbours Manchester United. On the complete opposite side of the spectrum lay the broken Inter Milan squad and their sharpshooter Romelu Lukaku, a former Red Devils striker.
The burly Belgian had missed a golden opportunity to draw Inter level but he directed a header straight towards City's goalie Ederson, who had no difficulty in saving it. Ten minutes earlier, Lukaku had gotten in the way of teammate Federico Dimarco's diving header which was destined to end up on the back of the City net but the striker inadvertently blocked it.
However, if one followed Lukaku's track record in big matches over the years, these high-profile mistakes would not be surprising. In Belgium's last Group Stage match against Croatia, Lukaku missed as many as three open chances at goal which ultimately sealed his country's elimination from the tournament.
In the first instance, Lukaku hit the post in front of a gaping goal. After that, he put a Kevin de Bruyne cross over the bar with the goalkeeper nowhere near him to make a save. He got another chance a bit later as Thomas Munier's ball ricocheted off his feet and went out. But he kept the worst miss for last as he chested the ball down in the 87th minute in front of goal but the ball bounced straight to goalie Dominik Livakovic. That was the end of the road for Belgium as well as its Golden Generation.
Romelu Lukaku stood in the way of Inter Milan's potential equalizer.

Tough luck 💔 pic.twitter.com/6yYWSLyhoE

— ESPN FC (@ESPNFC) June 10, 2023
https://platform.twitter.com/widgets.js
In the 2020 Europa League final against Sevilla, Lukaku's luck was against him again as his own goal handed the Spanish team a 3-2 victory.
Indeed, it'll be unfair to judge Lukaku only by his misses. While they'll be a part of his legacy when he ultimately hangs up his boots, there is a lot much more to his career. Not for nothing big teams like Manchester United, Inter Milan and Chelsea paid big for his services. He has scored 87 times for Everton in 166 matches, and 42 goals for Manchester United in 96 matches including 2 goals in that famous UCL night in Paris where United defeated PSG. He also has 78 goals for Inter Milan in 132 matches and was a vital cog in winning them the Serie A in 2021.
At 16, he was playing for Anderlecht, ultimately helping them win their 30th Belgian title in the 2009-10 season. In 2011, Chelsea snapped him up and sent him on loan to West Ham and Everton, the latter being his first step towards superstardom. United would purchase him from the Toffees in 2017 for £75 million and in 2019-20, he would go to Inter for a club record fee of €80 million. He would then return to Chelsea for a fee of £97.5 million.
AdvertisementAlso Read | Watch: Romelu Lukaku's late miss caps tough-luck Champions League loss for Inter Milan
Arguably, this is where it all started unravelling. A few months into his London stint, he gave an interview about how he still longed to play for Inter despite being contracted to Stamford Bridge. He would later apologise but it had already damaged his relations with then coach Thomas Tuchel and after a good start to the season, the striker found himself on the bench in most of Chelsea's matches. He would return to Inter on loan a few months after and has remained there since. There have been rumblings that Chelsea are willing to sell him permanently to Inter this season but nothing has been made concrete just yet. According to reports, the forward also has a two-year, £43 million contract offer from Saudi Pro League club Al-Hilal on the table.
If it does end up happening, Europe will end up losing another stalwart after Karim Benzema and Cristiano Ronaldo's moves to the Middle East.
"He was my biggest fan. Every time when I play… yeah, it's for him."

Romelu Lukaku gets emotional talking about his grandfather ahead of the Champions League final ❤️

(via @cnnfc) pic.twitter.com/1FHClRDbJ4

— B/R Football (@brfootball) June 9, 2023
https://platform.twitter.com/widgets.js
Coming from a humble background, Lukaku has often recounted how he and his parents had to fight adversity while he was growing up. As said to the Players' Tribune in 2018, "I was six years old, and I came home for lunch during our break at school. My mum had the same thing on the menu every single day: Bread and milk. Then this one day I came home, and I walked into the kitchen, and I saw my mum at the refrigerator with the box of milk, like normal. But this time she was mixing something in with it. She was shaking it all up, you know? I didn't understand what was going on. Then she brought my lunch over to me, and she was smiling like everything was cool. But I realized right away what was going on."
Advertisement
"She was mixing water in with the milk. We didn't have enough money to make it last the whole week. We were broke. Not just poor, but broke," he had said.
Also Read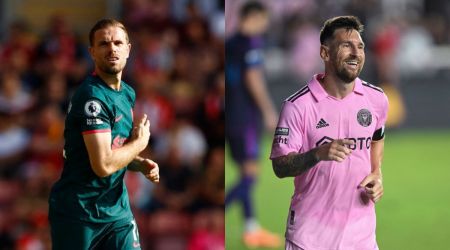 'Can't understand why coming here would damage Henderson's legacy and Mes...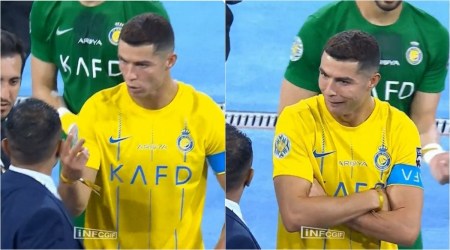 Watch: Cristiano Ronaldo looks bemused after being snubbed for player of ...
Jose Mourinho substitutes Roma player, forces his own team to play with 1...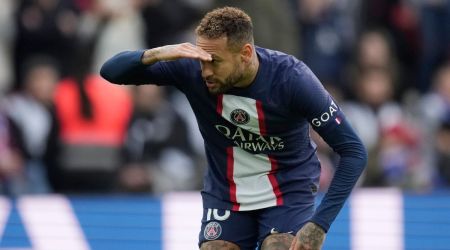 Neymar set for Saudi move after Al Hilal agree near-USD100M transfer fee ...
That fueled his desire to become a footballer and the rest, as they say, is history.
© IE Online Media Services Pvt Ltd