By Rory Smith
No matter what happens from here, regardless of whether Manchester City's campaign in the Champions League ends with medals and parades and the realization of the club's ultimate, meticulously planned dream, it felt as if something shifted amid the delirious tumult of the Etihad Stadium on Wednesday night.
It is not enough to say that Manchester City sealed a place in the Champions League final for the second time in three years. It is not just that Pep Guardiola's team demolished Real Madrid, the reigning champion, outclassing the club that regards this competition as its own private party by 4-0.
It is that City did so with a performance — given the circumstances, given the stakes, given the identity and reputation and talent of the opponent — that surely ranks among the finest and most dominant this tournament has seen. This was Manchester City sending a message, making a statement, proving a point. And in the process, it was also Manchester City vanquishing its ghosts.
Guardiola's travails in this tournament are well known. He is, by common consensus, the finest coach of his generation, and yet he has spent much of the last decade or so finding inventive ways not to win the Champions League. He has contrived to lose to Monaco and Lyon, Liverpool and Tottenham. He lost a final to Chelsea because he fiddled with his team. He lost a semifinal to Real Madrid in the blink of an eye.
Man City vs Real Madrid Game Photos:
1/5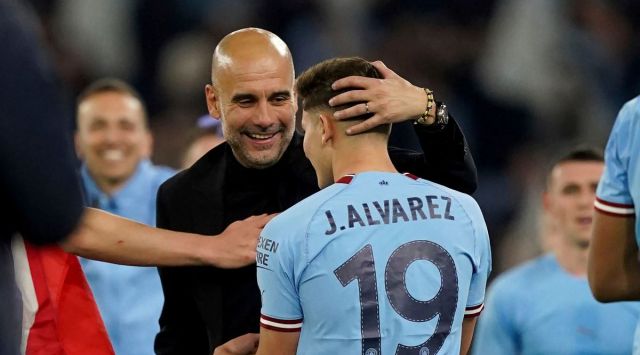 Manchester City manager Pep Guardiola and Julian Alvarez at full time after the UEFA Champions League semi-final second leg match against Real Madrid at Etihad Stadium, Manchester. Man City beat Real Madrid 4-0 to advance to Champions League final. (Martin Rickett/PA via AP)2/5
Manchester City's Erling Haaland, Manuel Akanji, and Ruben Dias, from right, celebrate their third goal during the Champions League semifinal second leg soccer match between Manchester City and Real Madrid at Etihad stadium in Manchester, England, Wednesday, May 17, 2023. (AP Photo/Jon Super)3/5
4/5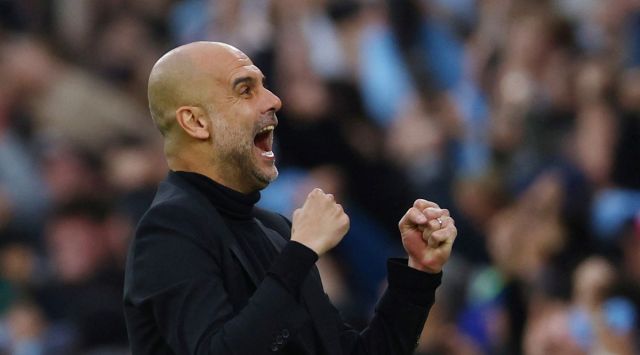 Manchester City manager Pep Guardiola celebrates their first goal scored by Bernardo Silva. (REUTERS/Molly Darlington)5/5
Manchester City's Erling Haaland celebrates at full time after the UEFA Champions League semi-final second leg match against Real Madrid at Etihad Stadium, Manchester. Man City beat Real Madrid 4-0 to advance to Champions League final. (Martin Rickett/PA via AP)
It has become a trope that Guardiola, in his urgency, overcomplicates matters. There is a theory — one that he himself alluded to here — that his background, as a Barcelona fan, has given him what might look in certain lights like a slightly unhealthy fixation with this tournament.
He has always scotched it as nonsense, of course, dismissing the idea that there might be a pattern, attributing the repeated disappointments to nothing more complex than the vicissitudes of the game. That has done little to quell the sense, though, that the Champions League had become his — and by extension Manchester City's — Achilles' heel, the one realm that the club's bottomless, state-backed wealth and knife-edge precision could not conquer.
Advertisement
Perhaps, given the nature of the City project, that was always likely to evaporate eventually. This is a club, after all, that has an unavoidable mechanized quality. For all the richness of its style, the gleam of its talent, it is hard not to discern the cold, calculated precision with which it has been constructed.
It is a club that feels as if it has been built — to the exact specifications of the best coach in the world, and then equipped with the best of everything that money can buy — instead of grown. At some point, that was always going to tell. At some point, establishing yourself as the Champions League's dominant force is less a sporting challenge and more an economic formula.
That, though, should not be allowed to disguise the style with which City swatted aside Real Madrid. Guardiola had, in the days preceding the game, detected in his players the three ingredients he believed would be required if they were to seal a place in the final against Inter Milan in Istanbul on June 10.
Advertisement
There was a sense of "calm," he said, a lack of panic and anxiety. There was "tension," too, the edge, the alertness necessary to perform. And, crucially, there was the "pain" of what happened last year, when City fell victim to that peculiar magic wielded by Real Madrid, and by Real Madrid alone. For a year, Guardiola said, his team had been forced to "swallow the poison" of that game. This was the chance to purge it.
In Wednesday's first half, in particular, it felt as if this might come to be remembered as the high-water mark of Guardiola's project in Manchester, the culmination of the team he has spent the past six years constructing, honing, polishing, perfecting.
By halftime, City led by 2-0, thanks to two goals from Bernardo Silva, and it would have had every reason to feel more than a little disappointed. Erling Haaland had missed two glorious opportunities. Kevin De Bruyne had whipped an effort across the face of the goal.
Real Madrid had spent 45 minutes pinned back not only in its own half but in its own penalty area, apparently powerless to break City's spell, to escape its stranglehold. Its players, many of them veterans of multiple triumphs in this competition, seemed harried and frantic, suddenly stripped of their poise and their prowess.
Luka Modric could not judge the weight of his passes. Toni Kroos kept giving the ball away. Vinícius Júnior, stranded on the left wing, forlornly urged his teammates to step forward. Federico Valverde, overwhelmed in the midfield, seemed continually baffled to discover that there was always another light blue jersey behind him.
Advertisement
Real Madrid's reputation is such, of course, that even when wounded most teams would consider it a threat. At no point, though, did City consider shrinking into itself. Guardiola, clearly, had scented something: not just the chance to win a game but to change the story, to shift the emphasis.
Top Sports News Now
'The name of the game is intimidation': Hungry Gukesh takes on resurgent Magnus Carlsen
Vidit wins 4-2 against Nepomniachtchi to complete Indian quartet in FIDE WC quarters
Neymar joins exodus from Europe for 'greener' pastures in Saudi Arabia
Click here for more
Riyad Mahrez came on. Phil Foden came on. Whirling, gesticulating, prowling on the touchline, Guardiola urged his players forward. Manuel Akanji made it three. Julián Álvarez, in the dying embers of the game, added a fourth. A victory turned into a triumph and then a rout.
Advertisement
This was not simply City taking revenge on Real Madrid for last year. It was City exorcising all of those demons it has built up, all of the disappointments it has endured, all of the times the machine that Guardiola has built has stalled at precisely the wrong moment.
At the final whistle, as Real Madrid's players sank to their haunches — bereft at the defeat, relieved the humiliation was at an end — the Etihad Stadium was filled with wild, discordant noise. The club was playing Gala International. The fans were roaring, booming, exulting. The word "Istanbul," displayed in neon pink, was emblazoned on the giant screens in the corners of the stadium. Guardiola, his energy almost frantic, was hopping and jumping and dancing with his players.
Advertisement
Greatness now rests in Manchester City's grasp. This weekend, it should claim the Premier League, its third in a row. It has already qualified for the FA Cup final, against Manchester United. It will, though Guardiola protested it, be an overwhelming favorite in the Champions League final. It is 270 minutes, no more, from winning a treble.
Also Read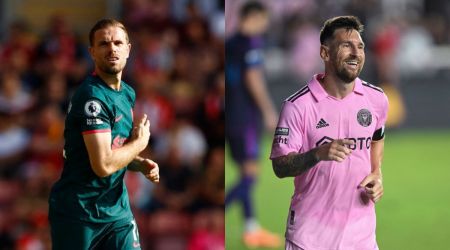 'Can't understand why coming here would damage Henderson's legacy and Mes...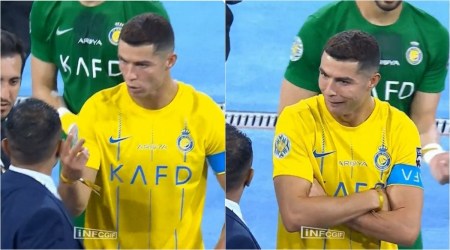 Watch: Cristiano Ronaldo looks bemused after being snubbed for player of ...
Jose Mourinho substitutes Roma player, forces his own team to play with 1...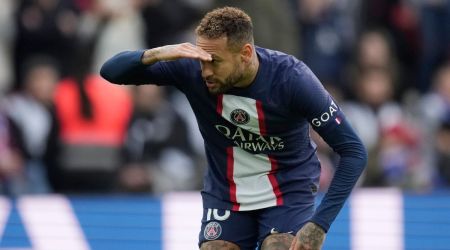 Neymar set for Saudi move after Al Hilal agree near-USD100M transfer fee ...
Whatever happens, though, whatever comes next, this victory was not simply a step on the way. It was a destination in itself, the night that Manchester City vanquished its ghosts.
This article originally appeared in The New York Times.