Lionel Messi returned to the Paris Saint-Germain lineup after a brief suspension and Kylian Mbappé grabbed the spotlight with two goals as Ajaccio was routed 5-0 on Saturday.
PSG moved closer to a record 11th French league title by leading second-placed Lens by six points with three games left.
Defeat relegated 18th-placed Ajaccio.
Mbappé's second-half brace moved him onto a league-leading 26 goals and two ahead of Lyon striker Alexandre Lacazette, whose side plays on Sunday.
World Cup winner Messi missed PSG's previous game because the club suspended him for traveling to Saudi Arabia for commercial reasons without authorization. He apologized and the suspension was lifted this week.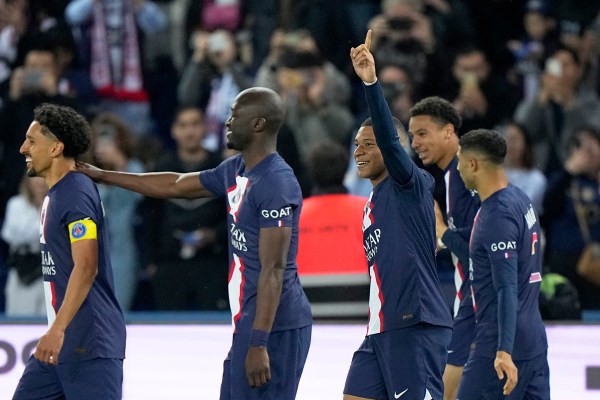 PSG's Kylian Mbappe, center, celebrates after scoring his side's third goal during the League One soccer match between Paris Saint Germain and AC Ajaccio at the Parc des Princes stadium in Paris, Saturday, May 13, 2023. (AP Photo/Michel Euler)
Messi received a mixed reception. Some fans jeered the superstar, but the absence of PSG's hardcore "ultra" fans made for a largely subdued atmosphere at Parc des Princes.
The Paris Ultras Collective — who usually stand behind one of the goals — are boycotting matches until further notice amid growing tensions with PSG president Nasser al-Khelaifi.
Midfielder Fabien Ruiz and right back Achraf Hakimi put PSG 2-0 up by halftime. Mbappé made it 3-0 in the 47th minute and volleyed in superbly from the edge of the area in the 54th. Central defender Marquinhos hit a deflected shot that led to an own goal.
Advertisement
Hakimi was sent off for the second straight home game when he was red-carded along with Ajaccio midfielder Thomas Mangani following a brief scuffle in the 77th.
The teams wore rainbow-colored numbers on their jerseys to lend support to the fight against homophobia.
Lens won 2-1 at home on Friday to move closer to an automatic Champions League spot.
Advertisement Top Sports News Now
'The name of the game is intimidation': Hungry Gukesh takes on resurgent Magnus Carlsen
Vidit wins 4-2 against Nepomniachtchi to complete Indian quartet in FIDE WC quarters
Neymar joins exodus from Europe for 'greener' pastures in Saudi Arabia
Click here for more
In Saturday's earlier game, striker Habib Diallo continued his fine form with both goals as Strasbourg beat Nice 2-0 at home to move closer to safety.
The Senegal striker scored after just 40 seconds — the third time this season he's scored inside the first minute — and struck again in the 59th to reach 20 league goals.
Also Read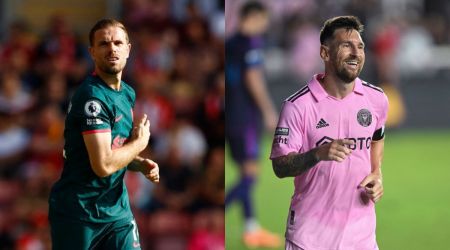 'Can't understand why coming here would damage Henderson's legacy and Mes...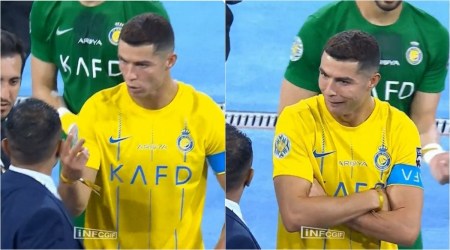 Watch: Cristiano Ronaldo looks bemused after being snubbed for player of ...
Jose Mourinho substitutes Roma player, forces his own team to play with 1...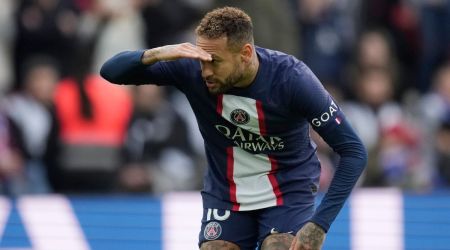 Neymar set for Saudi move after Al Hilal agree near-USD100M transfer fee ...
Strasbourg was 14th and six points ahead of Nantes in 17th spot, which was the first relegation position in a season where four teams go down.